Top Line Material Handling provides Returnable Bulk Container Repair service.


We have a staff and warehouse space dedicated to returnable container repairs.

We provide quality repairs and quick turn-around times.

Our repairs include Returnable Bulk Containers for most sizes and manufactures.

Many companies have different requirements or specifications for the repairs they send to us. To assure that we are meeting your expectations, we discuss with you, your individual requirements prior to receiving your repairs.
We use your specifications each time you send us repairs and return once they are complete.

No minimum quantity required and many customers ship several truckloads at a time.

Our price is competitive and our quality of work is second to none.

After each container is repaired, a quality check is done prior to returning.


WHAT WE DO
Repair or replace drop doors
Repair or replace sidewalls

Repair or replace latches

Broom sweep all Containers

Remove debris and dry out as needed

Scrape old labels when requested

Sauder cracks effecting the integrity of the container

CONTAINERS CAN BE MACHINE WASHED AND DRIED FOR AN ADDITONAL CHARGE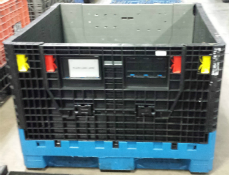 SAME CONTAINER - BEFORE AND AFTER